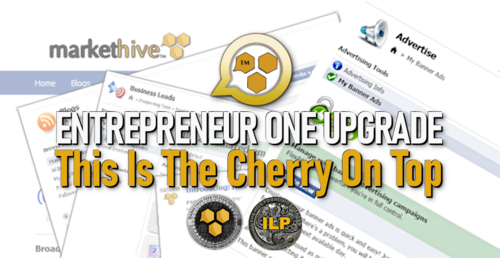 ENTREPRENEUR ONE UPGRADE
Introducing The Cherry On Top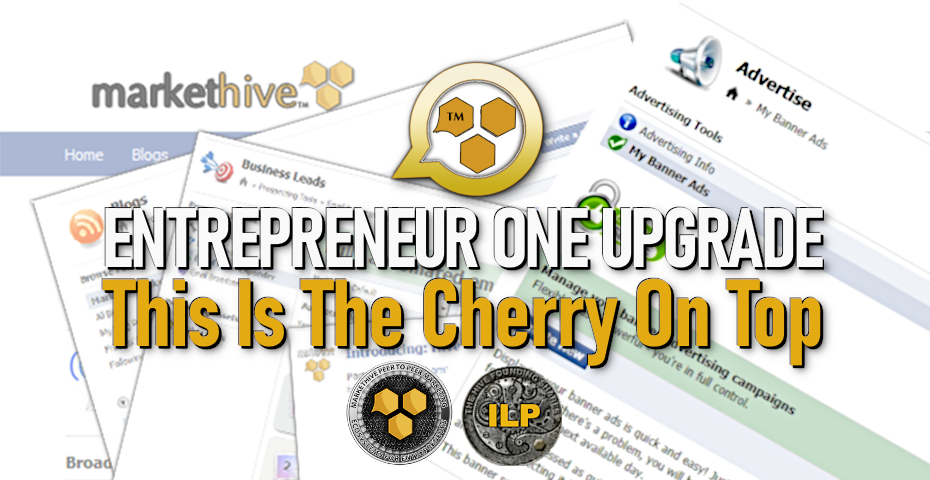 By now a good many members of Markethive are either a part of or at least heard of the Entrepreneur Upgrade Program.  This has now been broken down into separate grades as explained in this blog by Thomas Prendergast, the Founder, CEO, visionary and creator of this much needed and sought after platform whether a person realizes it or not. There is a huge market looking for what we do. 
There are so many facets of Markethive, it can be a little overwhelming at first, but the bottom line is you have everything and I mean everything here to succeed in whatever it is you do.  There have been 20+ years of high energy poured into Markethive. This is a Divine inspiration, this is spiritual magic-ness, and is putting everybody who signs up into the business first and foremost. 
We are at *Entrepreneur One Upgrade (*EP1) presently which is the premium highest level you can acquire. It contains all the services, loyalties and advantages to leverage and accelerate your success here at Markethive. This is limited and will cease by year-end. Keep in mind that the Entrepreneur One Upgrade status is yours for life, along with all the benefits it offers, as long as you continue the $100 monthly subscription. 
The Banner Ad Program With A Twist
The Entrepreneur One Upgrade is the only program that will have the Banner Ad Program included. But here's the kicker… Banner Ad Slots are up for Bidding! 
Let's face it, some people are saying "I have no use for the Banner Ad Program". Or "I don't use them. I don't have a personal business that requires banner advertising"  Being an Entrepreneur One Upgrade now gives you the opportunity to have a Banner business. This is totally exclusive to the Entrepreneur Upgrade One member. Let me explain… 
If you are an Entrepreneur One Upgrade (EP1) You will now be able to put your Banner Slots up for bid. If you have no need to use them yourself why not sell them?  
Coming soon, there will be a group in Markethive with an interface where all members can visit and view the banner slots, times and dates available etc, that are up for bid. You can stipulate whatever price you see fit. Also, Markethive Coin (MHV) will be the only currency used to purchase the banner slots.
How Does It Work
The Bidder pays you for the banner slot. They will then upload their banner into your Banner Control System and the Markethive Admin will take the necessary steps to approve it.
Note: There are certain guidelines and qualifications that need to be followed when creating a banner: 
Ensure your banner is sized to 960px x 80px.

Use images with white or transparent backgrounds.

Fade any graphics to white that touch the banner edge.
If it doesn't meet the qualifications. Markethive reserves the right to make changes to it. This will be free of charge as an Entrepreneur. 
So now you can sell your banner slots if you are not going to use them for your personal business. This is a limited resource to an ever-expanding market. The demand is only going to continue to increase.
Click here to join, Markethive is Completely Free
A Lucrative Business Within A Business
Imagine that you, and only a handful of others having total control over the banners that are being sold on Coinmarketcap for an average of $300,000+ a month! To break it down, at Coinmarketcap you will pay $16 per CPM (Clicks Per Mille = 1 Thousand Impressions)
On average the estimated impressions for a top banner per month is 26,595,000. That works out to $425,520 per month. 
Banner advertising is a very lucrative business and a proven way to acquire visitors and signups for your business, especially on a popular website. Also, as a rule of thumb, the lower your Alexa Rank, the more you can charge for banner advertisements. Coinmarketcap currently sits at 382 on Alexa Ranking. 
Click here to join, Markethive is Completely Free
Markethive, with an ever decreasing Alexa ranking (currently at 13,179) and a consistently increasing number of unique visitors and members at Markethive, along with the chance to pay only $100 per month into a loyalty program (*EP1) where you get ownership of a limited resource of the most prominent, sought after advertising spot in Markethive make this an exceptional lucrative opportunity. 
At present,  Markethive is receiving nearly 100,000 unique visitors a day and steadily growing organically.
To give you an example, let's say the EP1 is capped at 300 members. 100,000 unique visitors divided by 300 EP1s = 333 impressions on one page. The number of impressions into 50 pages per day would equate to 16,700 equalling 501,000 impressions per month. So if you had to pay a rate of $10 per CPM, that would equal $5,010 a month for banner advertising expenses. Keep in mind these banners will be viewed on the complete Markethive Network and all other systems that we have, so the number of impressions any banner receives will be exponential. 
You will get this type of exposure for only $100 per month with the Entrepreneur Upgrade One, and now we have the cherry on top where any EP1 member can create a Banner Ad business within the Markethive system by putting their unused Banner slots up for bid and being paid in MHV. 
Coin Velocity
This is just one more way Markethive is increasing our coin velocity. The fact that we are a meritocracy, exponentially growing daily as a social network with all the marketing tools, gamification, and loyalty programs we have and are still implementing is ensuring the credibility, velocity, and ultimate success of the Markethive Ecosystem and its Universal Income.
 Many coins and tokens on the market have no velocity as they don't have a real use case. All the services free and otherwise Markethive offers, increase the velocity, supply, and demand of the MHV coin. Utilizing the coin within Markethive for services and loyalty programs including but not limited to,
Faucets/Micropayments

Incentive Loan Program

Press Releases 

Sponsored Articles

Banner advertisement 

Banner Slot Bids

Boosting Posts

The Vault
By the very nature of MHV being a consumer coin, it's not open to speculation like many other coins on the market. The benefits of being on the inside of Markethive transacting with MHV in its ecosystem are many, and while this is happening velocity and demand increase.  The added benefit is the Markethive Exchange and MHV being listed on 3rd party exchanges gives it liquidity. 
Conclusion
The introduction of the Banner Slot Bidding which is a great way to earn even more income is just one more reason to Upgrade to Entrepreneur One before it closes for good.  
Soon we will be able to buy MHV from open market Exchanges and transfer into your Coin Clip in Markethive to purchase ILPs with MHV. I will delve deeper into that topic in a future blog. Stay tuned for updates and more exciting things to come. 

Click here to join, Markethive is Completely Free
Deb Williams
Market Manager for Markethive, a global Market Network, and Writer for the Crypto/Blockchain Industry. Also a strong advocate for technology, progress, and freedom of speech.  I embrace "Change" with a passion and my purpose in life is to help people understand, accept and move forward with enthusiasm to achieve their goals. 
Markethive News