Presidential Candidate Kennedy Vows to Defend Bitcoin Against 'Invasive Surveillance'
By Jason Nelson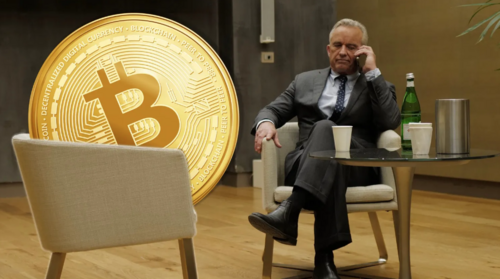 Images: Shutterstock
Speaking to a packed audience on the final day of the 2023 Bitcoin Conference in Miami, Fla., Democratic presidential hopeful Robert F. Kennedy Jr. decisively built Bitcoin into his campaign platform, saying the cryptocurrency must be defended against what he called "invasive surveillance."
"We live in a time now that technology has dangerously expanded the capacity for governments and corporations to control our lives," Kennedy said. "Distant, impersonal multinationals and authoritarian technologies have usurped realms of human activity that were once private or held by the community."

Kennedy added that these technologies monitor movements, communications, and transactions, pointing to the trucker protest in Ottawa, Canada, in 2022 as an example.
He said Bitcoin won him over when he witnessed the Canadian administration using surveillance and data tracking systems to block truckers who were protesting COVID mandates from accessing their bank accounts in a bid to end the demonstration.
"When I witnessed this cataclysm, this devastating use of government repression, I realized for the first time how free money is as important to freedom as free expression," Kennedy said.
During his keynote address, Kennedy took aim at President Joe Biden's proposed 30% tax on energy use for Bitcoin miners saying it would require an invasive surveillance apparatus to monitor miner energy usage.
Initially introduced in the White House's 2024 budget, the Biden Administration called for a 30% crypto mining tax, saying that crypto mining consumed almost as much energy, 50,000 gigawatts of electricity, as televisions and home computers in 2022.
The energy consumed by mining cryptocurrency has long been a cudgel used against proof-of-work blockchains. Proof-of-work blockchains like Bitcoin consume significant energy due to the computational power required to solve the complex mathematical problems involved in mining.
"It sets a terrible precedent in which everything that you do that requires electricity must now be monitored by the government," Kennedy said, adding that he would support people's right to refuse smart meters in their homes.
Kennedy had already stepped into the digital currency arena after opposing a U.S. central bank digital currency, or CBDC, and saying the U.S. government was waging a "war on crypto."

"As President," Kennedy told the audience. "I will make sure that your right to hold and use Bitcoin is inviolable, [and] I will defend the right of self-custody."
Not only would Kennedy protect the right to hold Bitcoin, he assured the crowd, he also pledged to uphold the right to run a private node—saying that Know Your Customer (KYC) requirements should be applied at the level of banks and exchanges, not at the level of nodes.
"I don't think the government has the right to demand access to your Bitcoin key or indeed any of your passwords," Kennedy said. "To say otherwise is to cede essential territory to the surveillance state."
"The whole point of Bitcoin is that it's decentralized," Kennedy said. "Anyone can run a node, and it's important not only for Bitcoin but for democracy to be decentralized."

Markethive News