Bitcoin Miners Win Reprieve as New York Lets Anti-Mining Bill Die
The New York Assembly failed to act on legislation passed earlier this week by the Senate.
By Jeff Benson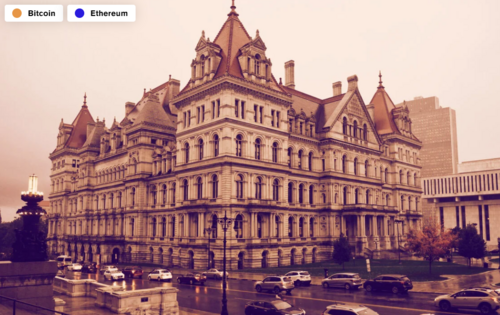 In brief
Legislators framed the bill around environmental concerns.
The legislative session ran out before the Assembly could vote on it.
New York state's legislative session ended not with a bang, but a whimper, on Thursday night.
That's just fine with Bitcoin miners in the Empire State.
The New York Senate this week had passed a bill to temporarily stop giving permits to Bitcoin mining facilities using carbon-based fuels; existing Bitcoin mining firms in the state would have been frozen at existing levels of electricity consumption. But the New York Assembly didn't get around to voting on its version of the bill, meaning that it must start at the beginning of the process during the next two-year legislative session. 

The law applied to mining of any cryptocurrency that uses proof-of-work consensus methods. Proof of work requires people running a decentralized blockchain network to commit computing power to secure it from outside attacks that leave centralized databases vulnerable. The more computing power they dedicate, the more likely they are to receive rewards in the form of transaction fees and "mined" tokens that are created with each new block of transactions.
The bill's advocates cited environmental concerns with cryptocurrency mining, which by its very nature, requires large amounts of electricity. That electricity can come from renewable sources, such as hydroelectric, geothermal, and solar energy, rendering the process carbon-neutral. Many Bitcoin advocates suggest that demand for Bitcoin increases use of energy that might otherwise be wasted—and could even drive up demand for renewable energy across the board.
Detractors, however, can point to any number of examples of facilities that do emit carbon, including Greenidge Generation, a New York gas-powered facility that last month pledged to start offsetting any carbon pollution from its operations via investments in clean energy.

The authors of Senate Bill S6486B were nonetheless concerned about the precedent being set in the state, as Greenidge and other Bitcoin mining firms had taken up residence in closed fossil fuel power plants. Those plants, the bill said, were shut down "due to reduced energy demand, improved transmission capacity and non-economic carbon-based fuel sources."
Rebooting them was counterproductive in legislators' eyes. 
But the Assembly had more pressing matters to get to, including parole and criminal justice reform; an impeachment investigation into Governor Andrew Cuomo also took up considerable legislative time.
Environmentalists aren't happy. "The Legislature's failure to act on climate this session is a crime against our future," Food & Water Action Northeast Region director Alex Beauchamp was quoted as saying in the New York Daily News. "With a supermajority in both the Senate and Assembly, Democrats failed to take action on the most dangerous threat facing humanity."

Markethive News