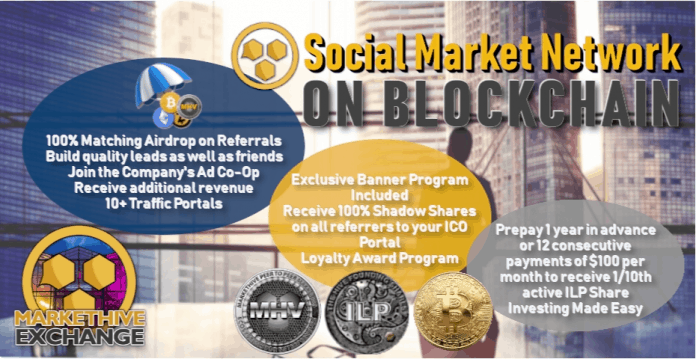 Own A Piece Of Markethive – Lifetime Income Opportunity
Markethive, the first Social/Market Network built on the Blockchain, introduces The Entrepreneur Program
The Entrepreneur program is designed to leverage your system. Your free Markethive system is a market network, like a social network, but with powerful inbound marketing tools integrated into the system. This premier hybrid social network includes news feeds, blogging platforms, video channels, chat channels, groups, image sharing, link hubs, resume, profile page and peer to peer commerce. But more than a social network, we have also delivered to you "Inbound Marketing tools" like broadcasting, capture pages, lead funnels, autoresponders, self-replicating group tools, traffic analytics, and more. Plus, we are built on the Blockchain which allows Airdrops of 500 Markethive Coin (MHV) upon joining and micropayments for using the tools mentioned above. This is all free to you.
The Entrepreneur program is designed to add gold plating to an already stellar and unbelievably valuable system you receive for free.
The Markethive Coin – MHV Consumer Coin
Notably, MHV was listed on the first of many exchanges, including its own exchange [in development] in March in 2019 and is currently valued at $0.16. The Markethive coin will not be dependent upon speculative value as is the case with other cryptocurrencies and platforms, thereby creating eternal economic velocity in the entrepreneur ecosystem within Markethive.



Click here, Markethive is Completely Free To Join
The Consumer coin, MHV, is being utilized within the Markethive exchange by way of airdrops and the faucet system which rewards associates using the platform, so the coin is used within the commerce of the system thus creating the velocity. The Revenue is a vehicle that is used to buy the Markethive coin back in the free market so it can be redistributed into the economic vortex of the system. This is a fundamental difference to the other systems currently out there today
The Next Level
First, we begin with the AIRDROP. That means you receive a 100% Matching Airdrop bonus on all referrals from you so you build quality leads, not just friends. You are also included in the Markethive's Advertising Co-op and receive new associates via the ad campaigns and traffic sponsored by Markethive. So if you struggle with recruiting friends and traffic, then just sit back and let us work for you.
Friends or Associates
As a free member by referring 3 people you activate the Markethive faucet or micropayment system and all free referrers are immediately made friends, just like Facebook does. Access to friends is limited to internal messaging and posting on their profile newsfeed (according to their settings) just like Facebook.
Fetch.AI's (FET) Post-Binance Launchpad Sell-Off Continues
As an Entrepreneur upgrade and when your traffic signs up through you, they become nurtured leads we call "Associates." This gives you access to all their data, verified cell phone, email, GEOlocation and the list and links to all the Social networks they share in Markethive.
Traffic Portals And Banner Program
You also share in our Traffic Portals, the traffic they produce, the revenue and the leads. Markethive's many traffic portals include our Exchange, our Web Builder, our Commerce System, and our News Release sites. And we plan on releasing more on an ongoing basis. This one feature can produce for you a lifetime of success. We refer to them as money machines and share their success with you.
You receive the exclusive Banner Program to publish three sizes optional banners within the Markethive dashboard and all the traffic portals. This means you get unlimited Banner advertisements in all of our traffic portals and Internet properties. This offer is incredibly valuable. Markethive properties are already receiving significant traffic and as we grow, that traffic is exclusively yours as an Entrepreneur upgrade.
Entrepreneur Profile Page
All subscribers have a profile page, but upgrading to Entrepreneur turns your Profile page into a capture page. When any traffic decides to subscribe to Markethive through your profile page or any of your Markethive blogs, they become an "Associate" (a highly qualified and nurtured lead)
It essentially turns your Profile Page into a lead funnel acquiring the best quality leads on the Internet. With full data, their social networks verified phone, and text verified email and a contact management system that tracks data, stores dated notes, sends messaging and calendars events reminding actions on your Markethive calendar like callbacks, email, etc. And, of course, you also receive a 100% matching coins bonus from all direct registrations via the Infinity AirDrop Campaigns.
Become A Shareholder in Markethive (Limited Time)
You also get an equal ILP share after 12 months of continuity with the Entrepreneur program. This is only available for the first 1000 Entrepreneur upgrades. What that means… Liken to an ICO, your monthly payment is accrued and if you stay current for 12 straight months, we contribute to you a full 10% ILP which pay out a share of 20% of Markethive revenue for 20 years and longer.
Ethereum and EOS See All-Time High DApp Traffic
Receive matching ILP shares for all Entrepreneur Upgrades that come via your account and exclusive ICO like portals; Exclusive loyalty award program assigning a 10% share of an ILP for every 12 months of consecutive payments towards the Entrepreneur program. That is a minimum value of $1500. ILPs are the revenue engine for holders of these shares.
This offer is only assigned to the top 1000 active Entrepreneurs in the program by seniority. The Entrepreneur Program is $100 mth, so with all you get, we are basically paying you back as well for the contribution for life.
Click here, Markethive is Completely Free To Join
Summary
The 8 points of upgrade
1. Profile Page turns into lead "associates" capture page
2. 100% matching bonus from the airdrops via your "associates"
3. 100% matching bonus from your direct "associates" upgrade
4. Loyalty Program 12 straight months, we contribute to you a full 10% ILP
5. Unlimited Banner advertisement in all of our traffic portals
6. Equal share from Markethive's co-op advertising
7. Traffic Portals seller classification
8. Receive your own ILP site receive matching ILP shadow shares
During Markethive's crowdfunding, all Entrepreneur upgrades also receive their own ILP site, assuring matching ILP shares as a reward for sending funding business to Markethive via your own personalized website. Similar to an ICO Site.
We are all entrepreneurs, and we know the future can have the greatest potential for those who take command and aggressively build their dreams. Markethive is dedicated to your dreams and not only has spent over 20 years perfecting our systems but have built this Entrepreneur upgrade to accelerate your path to success.
Click here, Markethive is Completely Free To Join

Markethive News