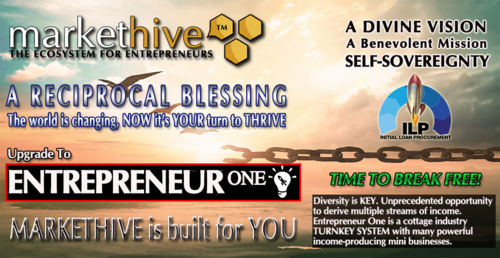 Markethive – What Are The Money Machines?
Markethive is the first Market Network and leading the way for marketers, business owners, all entrepreneurs, offering all the tools needed to facilitate any business along with a spirited community advocating collaboration in a blockchain-driven environment assuring privacy, autonomy, and sovereignty and all for free. This is a complete ecosystem where being able to generate an income is a reality. The Markethive system pays you to learn, it pays you to use it and it pays you to promote it.
How is this possible? That's easy. Markethive, with its own proprietary technology, built on the Blockchain with its own coin (MHV) is creating its own ecosystem. This allows Markethive to pay you in MHV for every activity you perform in the system.
It also runs on multiple engines. What does that mean?
Markethive started out and is fundamentally an inbound marketing platform given to you for free, much like Marketo which charges up to $25,000 per month to use its services. Geared for huge enterprise-scale companies, Marketo sold for $4.75 billion to Adobe and faring well for the B2B market.
But Markethive is much more than that. It's geared for everyone, whether you're just starting out in the online world or a business owner, writer, blogger, creative artist, an entrepreneur on any level. It not only plugs into all other social media platforms, but Markethive is also its own social media platform and digital news site. This lends itself to massive exposure and traffic required to succeed in any business online.
What Are The Money Machines? 
The first money machine to be delivered is the Banner X, which is the banner system that the Entrepreneur One upgrades (limited to 500) get their share of impressions to sell on an exchange. The last foundation block for Banner X was implemented this last week by our engineers, so this means the launch of Banner X is just around the corner. Once it is rolled out and if there are any E1 subscriptions left, they will increase to $200 per month. Remember, all money machines are included in the Entrepreneur One Program, so lock it in now for $100 per month here, https://markethive.com/upgrademe
The next money machine to be implemented will be the Press Release Program and they will continue to be rolled out faster as our engines increase in power and speed, which will include a Boost Exchange, Video Advertising Platform, many different forms of advertising programs which are essentially money machines. So Markethive won't be selling these programs, you as an Entrepreneur One will sell and profit from these various systems. Notably, Entrepreneur Two will receive all the money machines excluding Banner X. 
Join here and upgrade to entrepreneur1
To your success
Markethive News