Gemini, Genesis Reach $100 Million Agreement Over Earn Program
DCG will also exchange a $1.1 billion note for stock and refinance $1 billion in loans.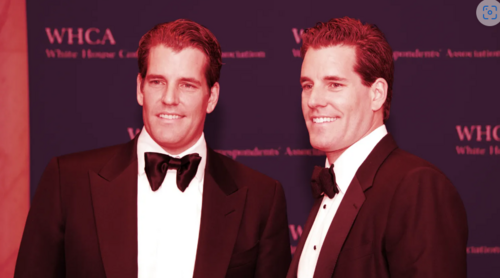 The Winklevoss twins co-founded the cryptocurrency exchange Gemini. Image: Shutterstock
Gemini Earn users are a step closer to recovering their money with an agreement announced today between US cryptocurrency exchange Gemini, Genesis Global Capital, LLC (Genesis), and Digital Currency Group
Gemini co-founder Cameron Winklevoss announced the agreement on Twitter.
"Today, @Gemini reached an agreement in principle with Genesis Global Capital, LLC (Genesis), @DCGco, and other creditors on a plan that provides a path for Earn users to recover their assets," Winklevoss tweeted. "This agreement was announced in Bankruptcy Court today."
Gemini will contribute up to $100 million more for Earn users, and according to a press release sent to Decrypt, the terms of the agreement with DCG includes the sale of Genesis Global Trading.
Further, DCG will exchange its existing $1.1 billion note due in 2032 for convertible preferred stock, and refinance its existing 2023 term loans in two tranches made payable to creditors with an aggregate total value of approximately $500 million.

Gemini and Genesis have been locked in a public battle over the Gemini earn program, which allowed users to deposit their cryptocurrencies and receive yields of between 0.45% and 8% interest, similar to a bank account. Genesis was the primary partner for the service.
Genesis halted withdrawals in November 2022, leading users and Winklevoss to threaten legal action against the company and DCG founder Barry Silbert, demanding that Genesis offer a plan for repaying the $900 million loan Gemini made to the now-bankrupt Genesis Global.
On January 19, the crypto brokerage firm filed for chapter 11 bankruptcy, joining a growing list of companies to collapse since the spring of 2022. At the time of the filing, the company cited the collapse of Three Arrow Capital and FTX as events that led to the company filing for bankruptcy.
Federal regulators in the United States subsequently opened an investigation into the Gemini Earn program, with the SEC charging Gemini with violating securities laws.

Winklevoss called today's agreement a critical step toward a substantial recovery of assets for all Genesis creditors
"I am grateful to the talented team at Genesis for their ongoing dedication and commitment to client service, and excited about working together to build Genesis for the future," Derar Islim, Genesis' Interim CEO, said in the release. "I also want to express my deep appreciation to all of our clients for their continued patience and loyalty as we work through a resolution for our lending business."
Winklevoss said that while there is still work to be done, he is confident there is a framework in place to move forward on.

Markethive News