Dogecoin Pumps as Elon Musk Agrees (Again) to Buy Twitter
The memecoin surged over 8% on news Tuesday that the billionaire is indeed willing to purchase Twitter at $54.20 per share.
By Sander Lutz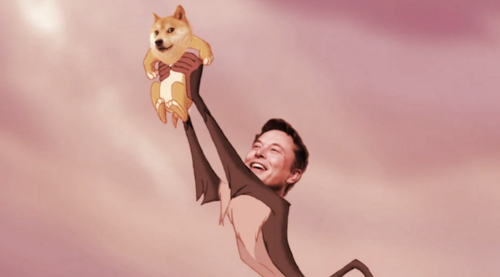 Elon Musk and Dogecoin. The circle of life. Image: Twitter
Dogecoin jumped over 8% on Tuesday after news broke that Elon Musk may finally be acquiescing to purchasing Twitter on the deal's original terms.
Musk's attorneys sent a letter late last night to Twitter, according to Bloomberg, proposing to buy the social media company for his original offer price of $54.20 per share. Within minutes of the news breaking, DOGE shot up 8.1%, to $0.0648 at writing, according to CoinGecko. 

Dogecoin and Musk have shared a long and deeply intertwined history. For years, the world's richest man has touted the memecoin in numerous playful tweets that he first claimed were ironic, but later appeared indicative of a real working relationship with the cryptocurrency's developers. 
Musk's tweets about DOGE, joking or not, regularly sent the token's price skyrocketing; when Musk hosted "Saturday Night Live" in May 2021, anticipation of the event sent DOGE hurtling towards an all-time high of $0.72. The coin subsequently crashed over 90% in the year that followed. 
The Tesla and SpaceX CEO's bid to buy Twitter, meanwhile, has been mired in drama and plot twists for months. When Musk originally proposed purchasing the social media giant in April, Twitter's board balked, invoking a so-called poison pill to prevent a hostile takeover of the company. Within weeks, however, the board accepted a whopping $44 billion buyout offer from Musk that was apparently too good to turn down.
Musk then backtracked weeks later, allegedly due to claims that spam bots comprised more of Twitter's usership than the company had initially let on. He attempted to cancel the deal in July, despite Twitter's insistence that the deal should go ahead as planned and that Musk was contractually obligated to fulfill it. 
It's unclear what prompted Musk's apparent change of heart months later, but off today's news that he may finally be willing to close the deal, Twitter's stock surged almost 13%, to $47.93 at writing. 
The deal, if it were to actually finalize, could be a major boon for Dogecoin. Days after initially proposing to buy Twitter in April, Musk mused that he could foresee adding DOGE as a payment method on the social media platform.

Markethive News