Bitcoin Holds Steady Above $20,000 as Enthusiasts Rally Around 'Uptober' Meme
A popular meme on Twitter, hopes that the Fed will slow rate hikes, and historical data points to a potentially bullish month for Bitcoin.
By Alys Key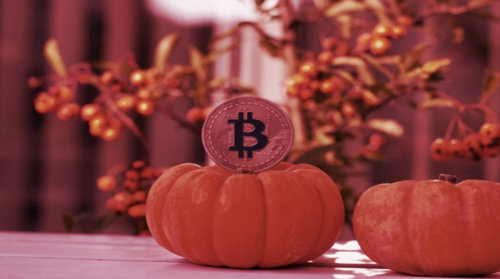 Bitcoin has historically performed well in October. Image: Shutterstock.
Bitcoin was trading above the $20,000 mark on Wednesday morning, after its first surge in what speculators are calling "Uptober."
The world's largest cryptocurrency by market capitalization peaked at $20,346 before settling at around $20,281 at the time of writing.
It was the highest level since the late September spike, which briefly boosted the crypto market.
Bitcoin-watchers have observed in previous years that the coin performs well in October. Last year's rally led to its highest-ever value of over $66,000 being recorded in early November.
"I submit to the Uptober narrative," tweeted Galois Capital, a crypto hedge fund noted for calling the collapse of Terra's algorithmic stablecoin UST. "It feels ripe." 
Other accounts with large followings were also quick to hop on the meme. Still, besides Twitter chatter, there have been a few notable events that could have pushed Bitcoin. 

The United Nations recently warned the Federal Reserve that the swift pace at which they were raising interest rates could "cut an estimated $360 billion of future income for developing countries." 
"Any belief that they (central banks) will be able to bring down prices by relying on higher interest rates without generating a recession is, the report suggests, an imprudent gamble," the UN's Conference on Trade and Development said in a statement alongside the release of a report.
If the Fed heeds this warning and slows its rate hikes, this could certainly help markets, not just crypto, recover.

Bitcoin's previous 'Uptober' performance
Conventional wisdom also suggests that October and November are good months for crypto, especially Bitcoin, though the term "Uptober" is relatively recent, emerging only during last year's record-breaking rally. 
Data from Coinglass indicates that in terms of monthly returns, historically, October has been a bullish month for the leading cryptocurrency. The only years in which Bitcoin ended the month in the red were 2014 and 2018. 
The same data suggests February is also a rather bullish month for Bitcoin.

Bitcoin monthly returns. Source: Coinglass.
Bitcoin monthly returns. Source: Coinglass.
The belief contrasts with a superstition around traditional equity markets, known as the "October effect," which suggests that the month is likely to be one of losses. 
Though several financial crashes have occurred in October, there is no data to suggest it is always an unlucky month.
October has special significance for Bitcoin, as its pseudonymous creator Satoshi Nakomoto first published the project's white paper on October 31, 2008. However, the first trade did not take place until January the following year.
DISCLAIMER
THE VIEWS AND OPINIONS EXPRESSED BY THE AUTHOR ARE FOR INFORMATIONAL PURPOSES ONLY AND DO NOT CONSTITUTE FINANCIAL, INVESTMENT, OR OTHER ADVICE.
Markethive News