Ray Dalio: Bitcoin and Crypto Get 'Too Much Attention'
The Bridgewater Associates founder opined on risks, both economic and political, in a recent interview.
By Jeff Benson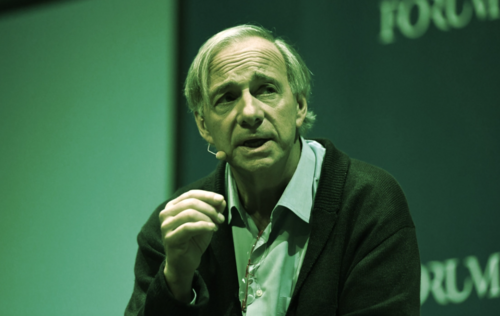 In brief
Ray Dalio is the founder of hedge fund firm Bridgewater Associates and one of the world's richest people.
He remains fairly skeptical of cryptocurrency as an investment.
He's at it again. 
Ray Dalio, arguably the most famous hedge fund manager in the world, indicated he's not putting too much faith in cryptocurrency as a hedge for anything.
In an interview on "The David Rubinstein Show" on Bloomberg, Dalio reiterated that he thinks some governments will outlaw cryptocurrencies such as Bitcoin—a point on which he's been proven correct—and implied that its market capitalization is too large. He also lumped the asset class's most fervent proponents in with goldbugs. "So, I think too much attention is spent on crypto," he said.
But Dalio, one of the globe's wealthiest men, does find digital assets "interesting"—and again admitted to holding a small amount in his diversified portfolio. "I think that we're now in an area where we're going to have different types of money," he said while discussing the unbundling of currency as a medium of exchange and a storehold of wealth.

Despite his bearishness on crypto's prospects, Dalio does have some things in common with American Bitcoiners. For one, he thinks the Fed has been too slow to rein in monetary policy. For another, he's genuinely worried about the economic and political future.
"I think that in the 2024 elections there is a reasonable chance that neither party will accept losing the elections," he said. "And that is something that means that democracy or a type of civil war of sorts could develop in a way."
In short, Dalio sees risk everywhere. Crypto, for example, is "vulnerable" to government tracking. The U.S. is susceptible to a political meltdown. And the Fed could have their timetable all wrong.

For those concerned that their BTC will become worthless in a dystopian hellscape with Jerome Powell as Supreme Overlord, it's important to realize that Ray Dalio is more probabilistic in his thinking; he avoids dealing in absolutes. 
That said, Bridgewater Associates, the firm he founded, hasn't been making profitable bets of late. It posted negligible gains in its flagship funds in 2019, followed by $12 billion in losses in 2020. In 2021, the firm restructured, so that Dalio now serves as co-chairman and co-chief investment officer, splitting investment decisions with co-CIOs Bob Prince and Greg Jensen.

Markethive News