MarketHive is an Entrepreneurial Social Marketing platform Built on Blockchain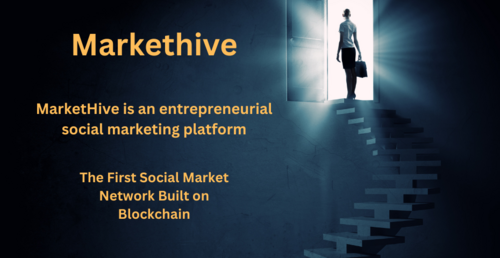 WHAT IS MARKETHIVE?
Markethive is not just another social network for the sake of being just another social network.
Markethive is the social network for Entrepreneurs as an ecosystem. This ecosystem is built upon the concept of force multipliers.
MarketHive is a combination of many many things, a social network for business related people and Entrepreneurs, a resource provider that can improve the likes of WordPress, LinkedIn and other social networks.
MarketHive existing assets include blogging tools, a state of the art email and broadcast and message system and in the future an online conference system. These assets are designed and fully integrated seamlessly into what is become known as MarketHive.
Anyone can use MarketHive, if you can use a social network such as Facebook you will quickly find your way around MarketHive, no special logins are required just use your favourite social network or even the likes of PayPal.
Once inside you can get to know other members, you can join a variety of groups of like minded people, be it about internet marketing, social media,news MLM, current affairs, its your choice and you can even form your own interest groups.
MarketHive is about communicating and sharing your interests and knowledge with fellow entrepreneurs, however it is not the place to mindlessly post links in a spamming manner, which do not add value. Yes many people have business they wish to promote, however it is best done via a soft sell, engaging in conversation and building relationships. If you wish to advertise your business you can purchase advertising space including banner adverts which displayed at top of site pages.
MarketHive like most social systems is free and will remain so. However there are additional benefits of becoming a subscriber to the Affiliate program which is due to be launched soon. The program in most cases will not only provide advertising credits to the value of your subscription, but also provide the opportunity to earn money from people you introduce and other benefits according to your affiliate Level.
MarketHive is a platform that you get paid to use and if you need help, there are usually members around who can help you. Why not Sign up now and see what we are about. Goodluck to you and welcome to wealth.
The Markethive System has unlimited potentials to Market and Grow any business.
In my many years of being online, this is the ONLY system, where you have the CEO and CTO almost round the clock in the Telegram support room, answering questions and supporting new members to better navigate the system.
Markethive is one of the best and easiest to use business Building systems I have ever used. In constant development with a well established end goal, but already works 100% as it, and can be used to build any business to any level. The system is built on the block chain and has all the tools one will ever need to be successful online or offline.
What I Like about Markethive:
Markethive has all the tools needed to Build a successful Business, all for FREE.
These tools include, but not limited to:
News feeds, blogging platforms, video channels, chat channels, groups, image sharing, social Market network, Inbound Marketing tools like broadcasting, capture pages, lead funnels, Autoresponders, self-replicating group tools, Store fronts, and more.
The Markethive platform is built on the block chain, meaning it is decentralized with great privacy protection, you are not being monitored, you own your own system, your account can never be limited, shutdown or terminated, and you can never be banned.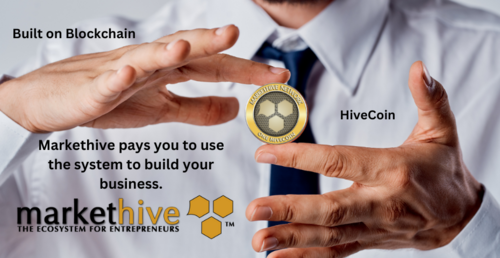 Markethive pays you 500 MHV (Markethive Consumer coins) coins just to sign up for free to use the entire platform.
As Markethive Entrepreneur, one gets paid 500 MHV coins matching Bonus for every referrer one brings to Markethive.
Markethive has a bounty System with what is called an infinity Airdrop that rewards in MHV coins for ever.
Markethive pays you in MHV coins to learn the system, and pays you as you use the system to build your business.
Markethive offers a 100% FREE advertising to the entire Markethive Membership base on the News Feed.
After you refer 3 people to Markethive, your Markethive System turns into a micro Faucet that pays you in MHV coin for any and all the actions your perform on Markethive, including but not limited to logging in daily, commenting on blog posts, posting of blog posts etc.
The Markethive platform is easily worth over $2,000 per month, but one gets it 100% free to use for ever.
The greatest Marketing and Business building system in the world that costs absolutely nothing to the use.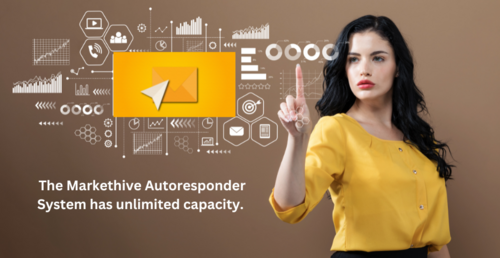 The Markethive Autoresponder System has unlimited capacity. Build a list of 100, 1,000, or 1 million subscribers, you will never be charged to pay a DIME. Compared to other Autoresponder Systems, the Markethive autoresponder System has a 97+ in-boxing rate. It delivers right into the inbox of your email and never to spam folders.
Markethive has a proprietary one click subscription System that reduces the number of steps required to acquire a lead. This means the Markethive capture widgets have a higher conversion rate compared to the Industry average and better than the best in the industry.
Markethive produces the best highest quality leads in the industry, because leads come in by using their social media details that are anyways already verified by their social media platforms. This means, there a NO Fake leads subscribing to the Markethive Autoresponder System.
A great Social Market Network of active Entrepreneurs with shared interests, supporting each other to be better entrepreneurs and succeed together and beyond.
Markethive has no access to your leads. All the leads you collect are yours.
Markethive capture widgets can be easily integrated anywhere
Markethive has a proprietary blogging system that with a push of a button, millions of people can be instantly reached.
And much more…..
Final Verdict about Markethive:
Join Markethive, you would not be disappointed. Even if you do not like it, you will have your 250MHV anyways, which is free Money you can exchange at the exchange against other crypto Currencies, including Bitcoin.
Markethive has set ups the Universal Income for Entrepreneurs, leveled the playing field, empowering everyone to become successful.
If you are just starting online, on no budget, then Markethive is your best bet, as it provides you with all the Business Building and Marketing tools you will ever need to Make Money Online or Offline.
Markethive is positioned to serve the GURUS and well and Newbies, Large Scale Companies as well as Individual Entrepreneurs.
Markethive is Built for the Entrepreneur
Markethive is the social network for Entrepreneurs as an ecosystem. 
When you integrate the power of the social network with the technology of Inbound Marketing, a new paradigm has been created giving the little guy and gal unprecedented power to achieve unparalleled success. Not to mention the affiliate potential also included.
MarketHive is an entrepreneurial social marketing platform with the combined strength of LinkedIn, Amazon, Facebook and Marketo.
It delivers a complete ecosystem all built within the blockchain.
If you have an online business, the Markethive system has all the free tools you need to grow your business.
You'll soon discover an incredible number of marketing tools, i.e.:- autoresponder- email, messaging- blogging system- video storage- newsfeed- banner exchange- groups- tutorial system, (to name a few).
All at your disposal f.r.e.e
Right now, you can sign up to Markethive for free and receive 250 MHiveCoins straight away and all those tools I mentioned above.
MarketHive members are growing in their level of excitement as the impending launch of MarketHive is growing ever closer. ( Yes, we are still in Beta)
The excitement seen in the various comments made by members as well as the excitement expressed by the MarketHive team itself is palpable and with each passing day we know that the first official day of MarketHive is quite literally just around the corner a wee bit down the tracks.
The train has already left the station and has entered the tunnel of metamorphosis.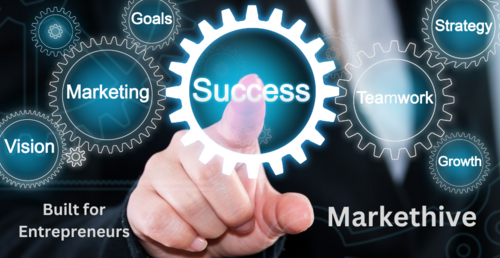 Very soon MarketHive will enter into it's cocoon and begin it's 30 day metamorphosis from a beta company into a fully matured adult company just 30 days later. MarketHive is going to be far more than a mere adult butterfly, but instead is going to be a business portal for many thousands of entrepreneurs globally.
The premium upgrade will be bought by thousands of members very soon after launch I predict because MarketHive offers substantial benefits for the small cost of the premium upgrade. However… Right now in this moment we all have the extremely RARE opportunity to be able to reap a substantial portion of the profits of MarketHive through the Entrepreneur One (E1) upgrade. BUT, the E1 upgrade will be no longer sold via MarketHive once we launch to the world!!!
We are quite literally 'down to the wire' and only those who ACT FAST will be able to obtain your own E1 while they are still available.
We are so close to launching that I'm starting to feel it in my bones. We don't have the date for the launch yet, however I am almost certain that the announcement will be made during one of the next 3 meetings and then the E1 will be on a countdown timer.
You really need to watch the video Tom ( The CEO) posted explaining the ILP and how incredible it is going to be for the FEW, WISE E1 upgrades and his projections of what each ILP can generate for you.
At ONLY $100 per E1 upgrade you can't go wrong getting multiple E1 upgrades.
You will be able to sell them later in an internal marketplace for much more than the total cost of the E1, so that is a consideration too.
There are so many different ways that you receive more value than the small $100 monthly cost plus you receive the ILP after the E1 has been paid for.
Of course right now we can get 50% of an ILP after just 12 consecutive monthly E1 payments and with 2 E1s you would have a complete ILP after just one year whereas it normally would take 10 YEARS to achieve that and $12,000.
Instead we can now earn a complete ILP after 2 E1 monthly payments of $200 each or $2,400! That is a simply gargantuan benefit of getting the E1s right now!
I hope you will join the ranks of the E1 members today!
If you're an entrepreneur, you'll want to experience Markethive for yourself.
Get signed up today.
To get started, click HERE    <<<
To your success!
Andries van Tonder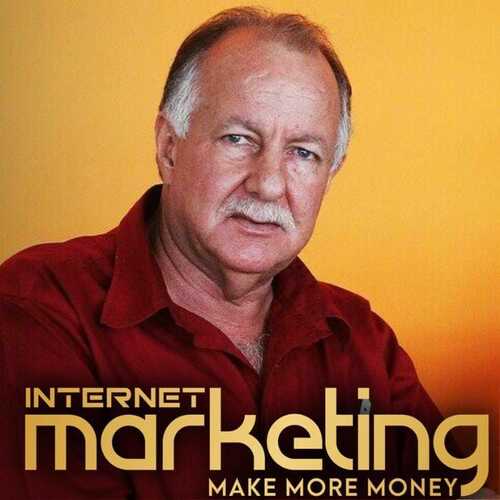 Serial Entrepreneur/investor since 2013.
South Africa.
Follow me on FaceBook, Twitter, WebTalk, Instagram & Markethive

Markethive News