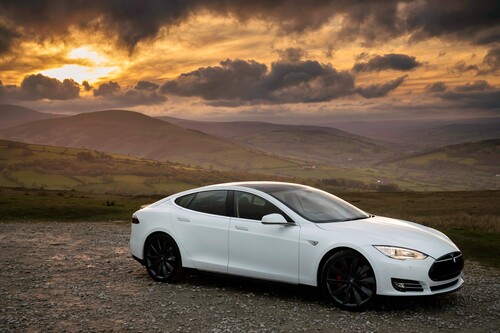 Bitcoin and Tesla: America's Most Loved Assets on Tradingview
Tradingview said Friday that bitcoin and Tesla, the electric car maker and clean energy firm, are America's most viewed assets on the charting platform.
Bitcoin (BTC) has climbed over 60% year-to-date, with the price reaching $11,900 at Press time. The rise has drawn in thousands of new investors – both retail and institutional – to the cryptocurrency.
Likewise, Tesla's share price more than tripled this year, soaring from $402 on January 1 to $1,650, driven by a positive future outlook on the electric vehicles industry.
"While publicly traded companies like Apple are nearing a $2 trillion market cap, it looks like traders and investors still aren't paying that much attention," said Tradingview, in a statement.
"For now, the data clearly shows that Tesla and bitcoin are the two assets everyone is looking at most often," it added.
Throughout July, Tesla was the most viewed stock in 31 U.S. states but bitcoin was not far behind.
"Our findings also show the South East favors forex and the West Coast states of California, Washington, and Oregon lean toward bitcoin. The west coast loves crypto the most," noted Tradingview.
Bitcoin has risen sharply in 2020, fuelled by relentless fiat money printing by governments and central banks, keen to keep their economies afloat in the wake of the coronavirus pandemic.
Amidst the economic downturn, investors seeking to hedge against inflation have piled into the top cryptocurrency.
For example, Nasdaq-listed Microstrategy Inc. this week adopted bitcoin as its primary treasury reserve, spending $250 million on 21,444 BTC. The company described bitcoin as a "dependable store of value…superior to cash."

Tradingview is a cloud-based social platform for traders as well as an independent charting and analysis tool. With millions of users, the platform provides access to educational trading expert ideas and content in the form of notes, charts, pictorials, and videos.
Users can also trade and make orders directly on the site. Almost all cryptocurrency exchanges incorporate Tradingview, which makes up the main interface that helps users monitor live crypto activity on an exchange. Additionally, Bitcoin.com's crypto market aggregator offers professional trading charts that stem from Tradingview.
What do you think about the popularity of bitcoin and Tesla on Tradingview? Let us know in the comments section below.
Markethive News